Gulf's Rigs and Platforms Attract Offshore Anglers
October 23, 2017
The Gulf of Mexico is well known as a sports fishing paradise with offshore oil and gas platforms that are home to some of the best fishing in the Gulf. As the Department of Interior recognizes October as National Hunting and Fishing Month, anglers are taking advantage of cooler temperatures to descend on these fertile fishing grounds.
"The Gulf of Mexico is unique because nowhere else in the U.S. does the oil and gas industry have such a symbiotic relationship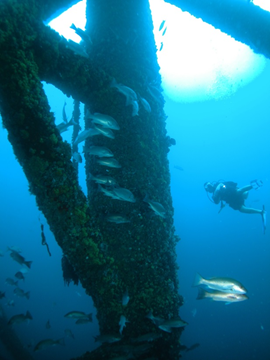 with the states and people directly affected by their operations," said Bureau of Safety and Environmental Enforcement Director Scott Angelle. "One reason is BSEE's Rigs to Reefs Program – it works to help create artificial reefs by using decommissioned oil and gas platforms as habitat for fish and a wide variety of marine species."
The National Fishing Enhancement Act of 1984 authorized the use of artificial reefs on the U.S. Outer Continental Shelf. In response, states soon began developing policies and laws to support the creation of artificial reefs. Each Gulf state now has its own unique artificial reef program.
"The Gulf of Mexico is home to the largest artificial reef system in the world, in part because of platform decommissioning," said Doug Peter, BSEE Artificial Reef Coordinator. "It sits off the coast of Louisiana in state waters and includes the jackets of 24 decommissioned platforms."
Repurpose and Reuse
Platform jackets are steel frames that support the deck and topsides of a fixed offshore platform. They are commonly used in waters less than 1,000 feet deep.
Platforms, and especially their jackets, become habitats for marine life shortly after installation. As a platform ages, the number and kinds of fish and other marine organisms taking up residence around and on the structure grows. It is not uncommon for thousands of fish to make platforms their homes.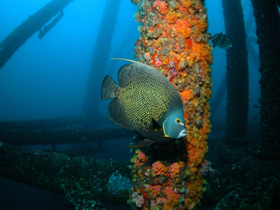 "The oil and gas platforms in the Gulf of Mexico provide some of the most abundant and productive habitat on earth, and in doing so create exceptional opportunities for recreational anglers and divers. These platforms are part of why the Gulf is such a popular destination for anglers and divers, who bring enormous economic impact to the region.  The continued success and expansion of the Rigs to Reef program is critical to communities across the Gulf Coast," said David Cresson, CEO, Coastal Conservation Association of Louisiana.
Once the platforms are no longer economically viable, energy companies are typically required to remove them within a year. However, removing them eliminates hard substrate habitat for thousands of fish and sessile marine organisms. The steel jackets have grown into complex, stable, and durable habitats so the fishing is ideal. Anglers, recreational scuba divers, and others who frequent the Gulf of Mexico see a benefit to protecting these reef sites. BSEE's Rigs to Reefs program is one mechanism that can help these stakeholders maintain and sustain the habitats after a platform's economic life has ended.
The ideal solution for keeping the habitats is often to make the platforms permanent reefs. Hazardous materials are removed from the facilities because they must be free from contaminants prior to being either reefed in place or towed to a designated reefing area.
"The Rigs to Reefs program is a great example of how successful partnerships between the oil and gas industry, states and non-governmental organizations benefit all Americans," said Angelle. "As we move our nation from one of energy independence to energy dominance, offshore oil and gas will play a bigger role. This is the time to grow in capacity and at the same time preserve America's Gulf for everyone."
Since implementing the Rigs to Reefs program, more than 500 platforms have been converted to artificial reefs in the Gulf of Mexico. An additional 400 platforms that are eligible for decommissioning in the Gulf may become permanent artificial reefs.
For more information on BSEE's role in helping keep the Gulf of Mexico healthy and the offshore environment free from pollution, visit https://www.bsee.gov/what-we-do/environmental-focuses