Today, Bureau of Safety and Environmental Enforcement Director Brian Salerno met with faculty and staff at the Energy Institute High School in Houston, the first high school in the nation focused on preparing students for careers in the energy field. While at the Energy Institute, Director Salerno met with Principal Lori Lambropoulos, Dean of Students Noelle MacGregor, STEM Coordinator Rene Flores and current students.
BSEE is working closely with the Energy Institute to develop plans to provide guest speakers, participate in judging competitions and arrange for field trips to bureau offices such as the Lake Jackson district Office.
The Energy Institute is a new magnet school in its first year of existence for grades 9-12 in the Houston Independent School District. Students at the school work within one of three pathways: geosciences, alternative energy, and offshore technology with a core curriculum focused on STEM subjects such as science, technology, engineering, and mathematics.
Image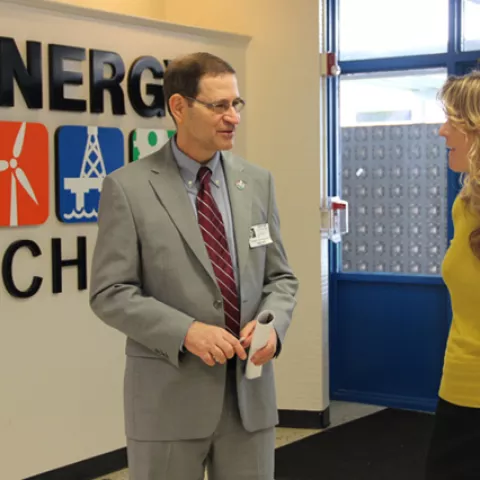 BSEE Director Brian Salerno speaks with Energy Institute High School principal Lori Lambropoulos.