Image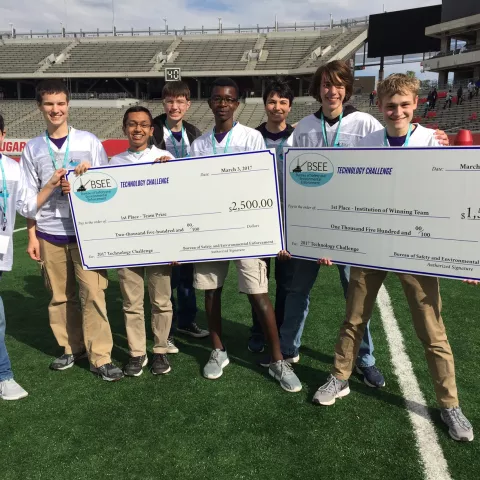 HOUSTON – Today, a team of eight students from College Station High School in College Station emerged victorious from the second annual High School Offshore and Technology Stars Challenge, which was co-hosted by the Bureau of Safety and Environmental Enforcement (BSEE) and the Ocean Energy Safety Institute (OESI) at the University of Houston. Other participating schools include Energy Institute High School, Charles H. Milby High School, Westside High School and Young Women's Preparatory Academy, all of Houston, and Southwest High School in Fort Worth.
Jarvis Outlaw, BSEE's Houston Engineering Technology Center Manager, welcomed the students to the Tech Challenge with a strong message of encouragement for the young competitors. "Experts have projected that there will be a workforce need of one million additional science, math and engineering graduates by 2022," said Outlaw. "This is very exciting for you as you get ready to graduate – the U.S. needs you to help meet the needs of our nation."
During the challenge, the students collaborated within their teams to design and build an energy harvesting circuit based on NASA-developed piezoelectric technology, which generates an electrical charge when it vibrates or bends. The circuits enabled the teams to charge battery packs for remote control helicopters, which they then flew through a course on the University of Houston's TDECU Stadium football field, accumulating points for course completion and the distance their helicopters flew in an eight minute period. 
Team Quantum Electronic's performance in several challenges won them the championship. They successfully piloted their helicopter, simulating travel to and from an offshore oil platform, for a total distance of 650 yards. They defeated 14 other teams to claim the $2,500 grand prize, as well as a $1,500 teaching grant for their school. They will also be among two other teams from California and Louisiana to receive an invitation from BSEE to attend this year's Offshore Technology Conference in Houston in May to be recognized for their achievement.
"Our event today is meant to inspire students to learn and motivate many of them to pursue STEM careers," said Outlaw.  This year, BSEE and OESI expanded the Tech Challenge to include New Orleans and Bakersfield, Calif., and plan to add other cities including Anchorage, in the years to come.
-- BSEE --