Marine Ecology Program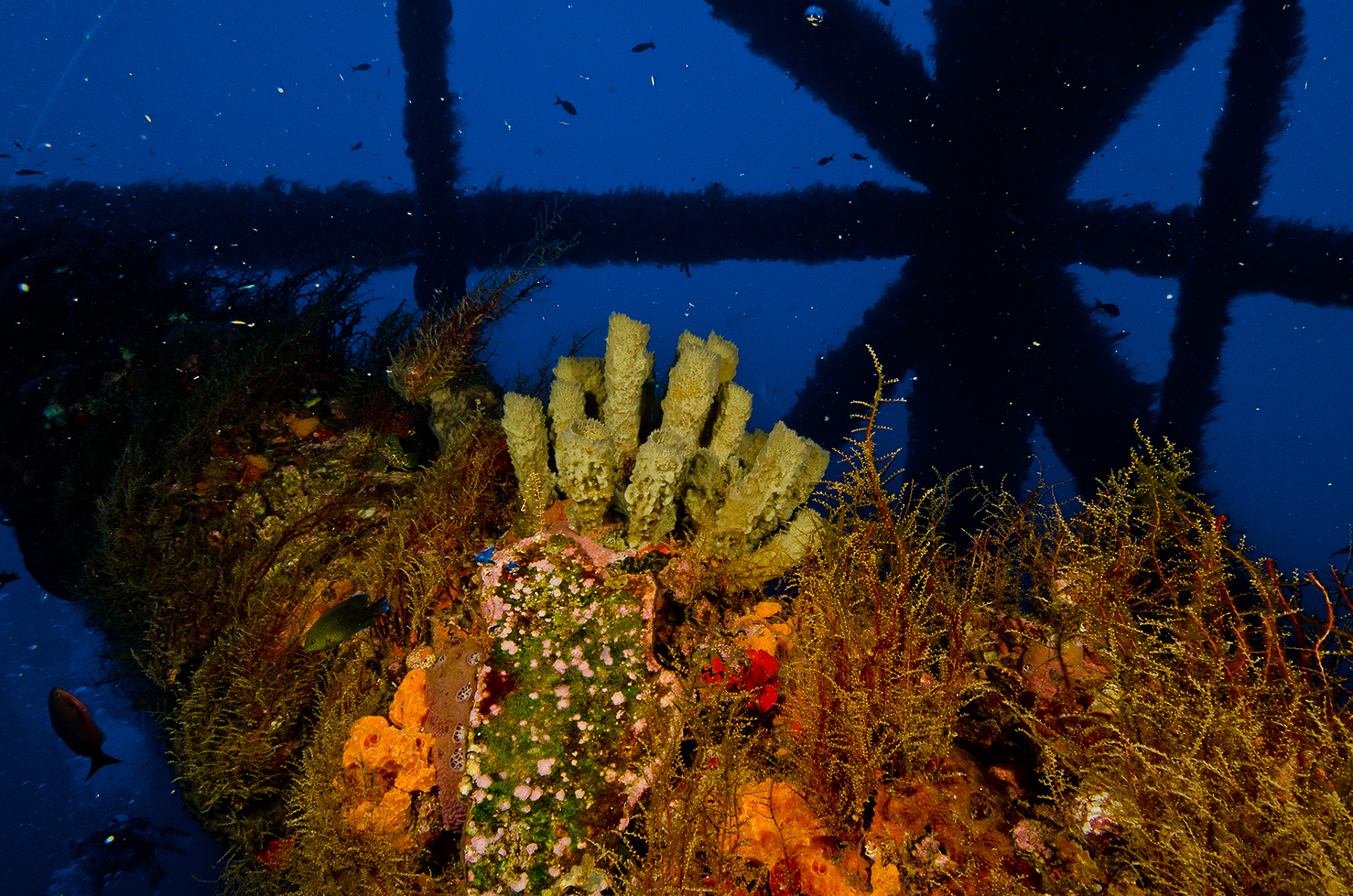 Sponges, hydroids, and more on an oil and gas platform.
Marine life comes in many varied and fascinating forms… sometimes simple… sometimes complex… often bizarre. A few of the many thousands of species of marine life have a valuable place in our economy (e.g., shrimp, tuna, snapper), most do not. While most people never see the incredible array of ocean plants and animals, we at BSEE consider them all valuable.
The reason marine life has developed in so many different forms is because the marine habitat provides such a variety of conditions. Most people are familiar with the sandy seashore and think that life is sparse there; but a remarkable array of organisms are found there, specially adapted to the conditions of the pounding waves and the blowing sand. The opposite end of the ocean spectrum – the deep, dark abyss – is home to amazing animals with large eyes and phosphorescent spots, tubeworms that live on methane, stalked animals that look like lilies, octopuses with helicopter wings, and more. Undersea mounts support reef life of all sorts: corals near the surface with sun-loving algae in their tissues; corals in the depths that feed on passing plankton; strange cousins of starfish that climb up on the reef at night and wrap their tentacle-like feet around a resting place and spread dozens of fern-like arms to net their supper; stationary bed-spring black corals coiling up a few feet into the water column and extending their white polyps that look like the teeth of a saw; sponges in riotous colors with huge internal networks of mesh to filter plankton and often harboring scores of small snapping shrimp who cock their oversized claw and snap it to stun their plankton prey; numerous animals that live in the crevices and overhangs and come out at night to forage, such as octopus, urchins, lobsters, and eels; all these and more; something takes up residence in every small space of the reef.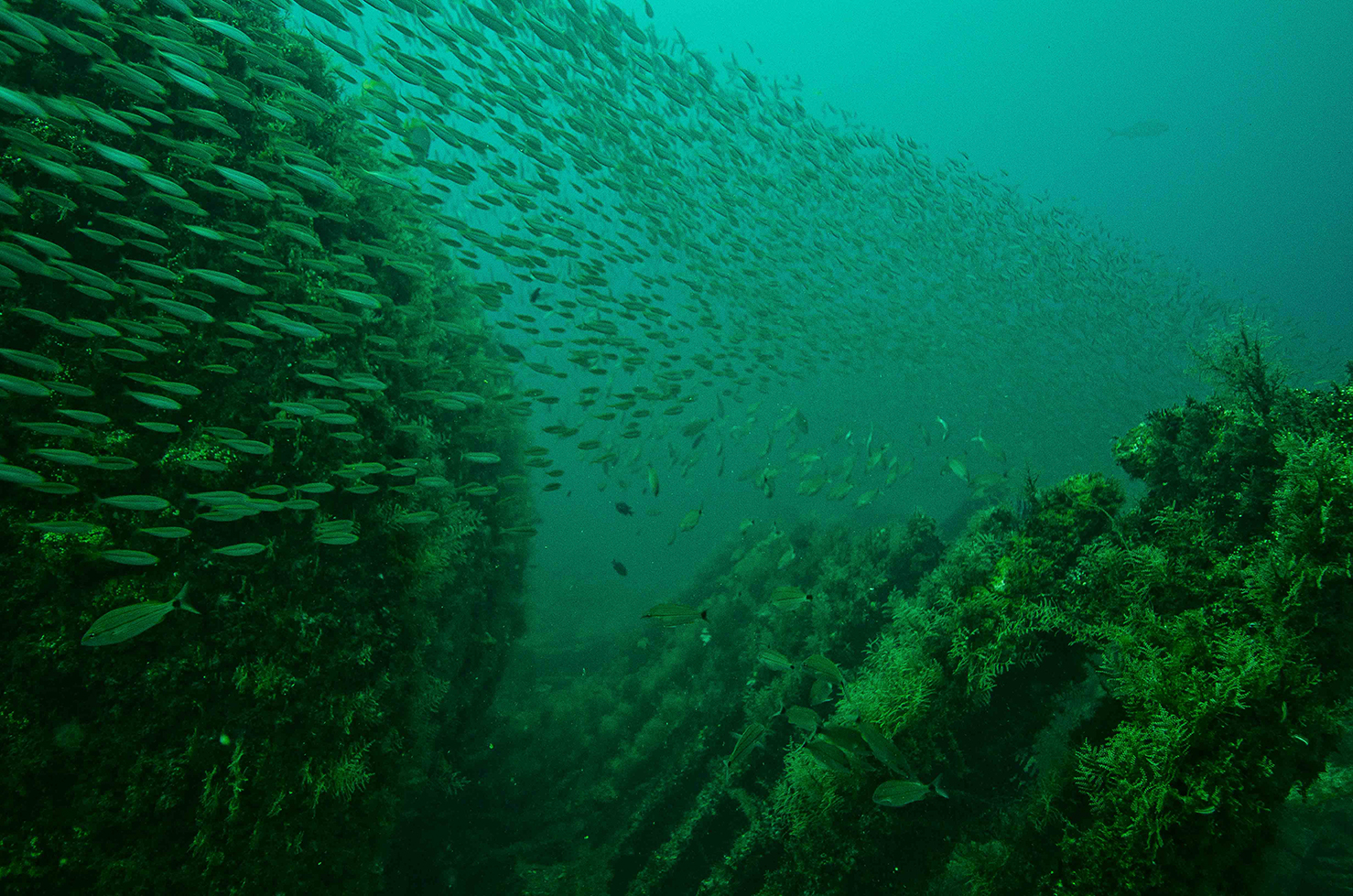 Schools of fish swim among hydroids through the ribs of the sunken 'Russian Freighter' artificial reef off Pensacola, Florida.
There are miles and miles of soft bottoms that range from fine mud to coarse sand and every mixture in between; all of it harboring its own special set of organisms that adapt to live there. Above those miles and miles of soft bottoms are miles and miles of open ocean; other plants and animals have adapted to make their life in this upper water column. Scientists study the many varied ocean habitats and their residents to gain an understanding of all the components in the ocean… to better understand its whole…. Some of those scientists work at BSEE. Our scientists protect the ocean and its plants and animals from possible impacts of offshore energy development. This is what the Marine Ecology Program is about.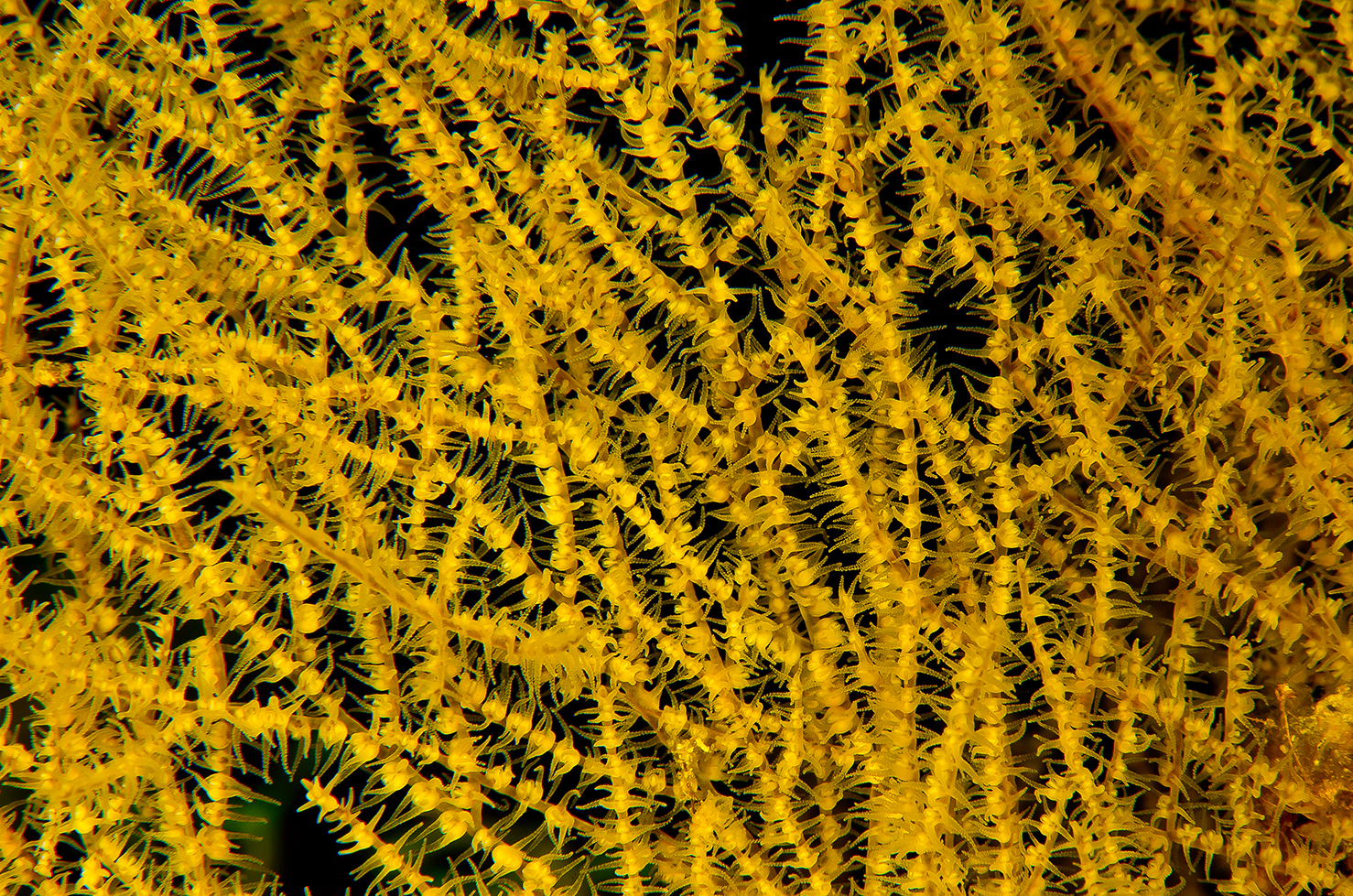 The skeleton of this 'black coral' is black, but the polyps are pure gold!
Ecology is the interaction of living organisms with their environment. This encompasses both plants and animals as organisms and their relations to all aspects of the environment such as sediment, water quality, currents, sunlight, etc. It also includes the interaction of organisms with each other. BSEE considers all these components of ecology in the Marine Ecology Program, with a goal of ecosystem-based management.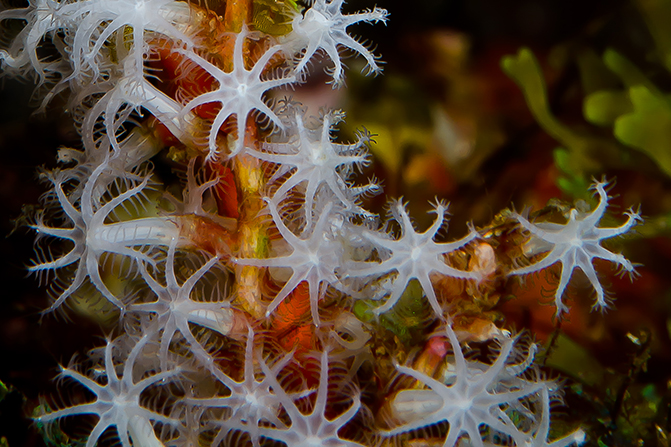 This beautiful octocoral (eight tentacles), called white telesto, is common on oil and gas structures in the Gulf of Mexico.
The ECP works with its sister agency, the Bureau of Ocean Energy Management (BOEM), industry, coastal States, and other concerned parties to protect the environment. This involves an array of regulations to prevent possible impacts from offshore energy activities such as drilling, pipe-laying, seismic surveys, and platform construction. The ECP has programs in place to ensure protection of air quality, water quality, endangered species, and marine habitats. There is a marine trash and debris program for the prevention of ocean litter. We have a Seafloor Compliance and Monitoring Program (SCAMP) to assist in conducting underwater field inspections to ensure that industry is complying with requirements. This work involves inspections of actual work sites to examine the effects of industry activities on marine habitats and communities. The work is done with a variety of tools such as side scan sonar, magnetometers, and remotely operated vehicles (ROV's).
In addition to inspections and surveys of offshore work, the Marine Ecology Program conducts research of relevant issues and monitors sensitive habitats. These research projects will help us understand issues and problems, select preferred techniques and technologies, and determine the best course of action for environmental protection.
| | |
| --- | --- |
| The blue angelfish has spines on its gill plate. | This seaweed blenny lives in a loggerhead sponge, beside a yellow christmas tree worm. |
| The dusky damselfish juvenile shines orange with electric blue polka dots. | A small squat lobster hangs out on a vase sponge. |
| The small side branches on this stinging hydroid colony are each about 1/4 inch long and have over 100 tentacles to create an effective fishing net for gathering plankton. The balls on the center of the stalk are polyps specialized for reproduction. | Purple rope sponge growing in a field of yellow pencil coral at the Flower Garden Banks coral reefs, 100 miles offshore in the Gulf of Mexico. |
| Stinging fire coral is actually a colony of hydroids that make a coral-like skeleton. | The great star coral has green algae in its tissues. |