Standards, Safety, and Industry Cooperation
More than 80 percent of global merchandise and trade is affected by standards or by regulations that embody standards.  Imagine if every nut and bolt were made in a different way; and that every time you needed to put a nut and bolt together, you needed a different tool.  The safety issues associated with manufacturing and servicing equipment would make it cost prohibitive.  Standards eliminate the problem by enhancing the safety of industry operations, assuring quality, keeping costs down, reducing waste, minimizing confusion, increasing the acceptance of products, and bringing products to market quicker.
For offshore operations, safety is directly enhanced due to standards.  Safety is enhanced because custom engineering jobs and non-productive time is reduced.  Further, safety is enhanced due to more efficient and improved operations, enhanced system compatibility, as well as better documentation, traceability, testing, maintenance, inspection, repair practices, and quality control.
Industry and regulators are typically in agreement on the use of standards to set policy.  Industry wants their standards to be incorporated by reference (IBR) into regulations, and Federal regulators are obligated to do so, if practical.  Standards are typically developed quicker than regulations.  Incorporation of industry standards into Federal regulations allows industry to participate in the regulatory process and avoids new regulations that would be developed by government. 
BSEE Must Use Industry Standards
Image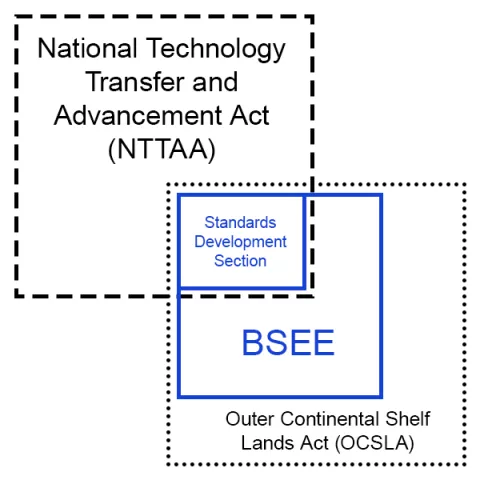 BSEE and the SDS are mandated by two statutes, namely, the Outer Continental Shelf Lands Act ("OCSLA," 43 USC §§ 1331, et seq.) and The National Technology Transfer and Advancement Act of 1995 ("NTTAA," 15 U.S.C. § 272, Sec. 12).  OSCLA places all submerged lands seaward of state submerged lands under U.S. jurisdiction and control pursuant to the Secretary of the Interior.  The NTTAA expressly states, "…all Federal agencies…shall use technical standards…to carry out policy objectives or activities…and shall…participate with such bodies in the development of technical standards." 
OMB Circular A-119, "Federal Participation in the Development and Use of Voluntary Consensus Standards and in Conformity Assessment Activities," is intended to implement the NTTAA and, in so doing, improve regulatory and other policy outcomes.  Particularly, the OMB Circular directs agencies to use standards rather than writing regulations, whenever practical. 
The adjacent figure illustrates the overlapping relationship between the entities and the statutes, i.e., BSEE and SDS with respect to OCSLA and NTTAA. 
The BSEE Standards Development Process
Image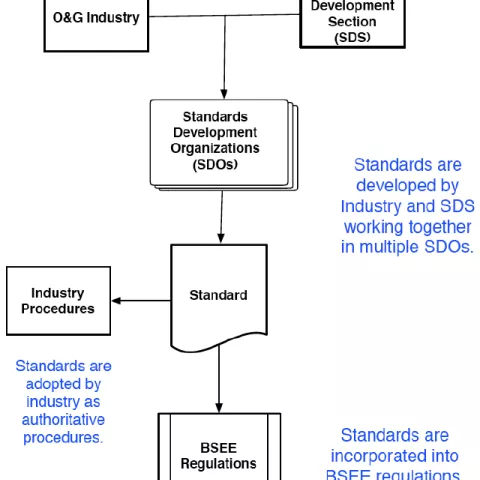 Pursuant to the NTTAA and OMB Circular A-119, the BSEE Standards Development Section (SDS) has a standards development process for the outer continental shelf (OCS).  The SDS is the primary interface between the Federal government and other stakeholders concerning industry standards.  The SDS interfaces the various BSEE Regions, Districts and program offices, the Regulations Development Section, the standards development organizations (SDOs), and the offshore industry in developing and updating standards relevant to the mission of BSEE.  The adjacent flow chart illustrates the BSEE standards development process.
BSEE has a long history of using industry standards to supplement and enhance its regulatory program.  As of December 2020, BSEE has incorporated by reference 125 industry standards in its regulations (see 30 CFR § 250.198).  The SDS is responsible for tracking, engaging in, and advising on, industry standards relevant to BSEE's mission.  The SDS coordinates SMEs from the offshore industry and BSEE to work together through the SDOs to develop standards as required by the NTTAA.  The SDS is currently monitoring 10 different SDOs in the development of 125 standards presently IBR.  There are different SDOs that develop industry standards such as the American Society of Mechanical Engineers (ASME) or the American Petroleum Institute (API).  The SDS also engages in the development of other standards in addition to the 125 incorporated standards if it is deemed a priority by BSEE.  The 10 SDOs whose standards are IBR are illustrated below.
Image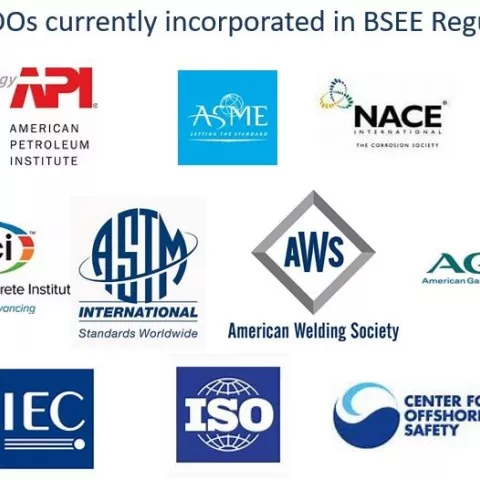 SDOs generally require that a standard be reviewed and updated at least every 5 years.  BSEE has 125 standards IBR in its regulations.  Thus, each year, an average of 25 standards needs updating in the regulations.  Also, new standards are considered for IBR on a regular basis.
Standards Promoting Safety and Environmental Stewardship
The incorporated standards in BSEE's regulations address many subjects that form minimum safety requirements for entities operating on the OCS.  The subjects addressed by the incorporated standards include, but are not limited to: 
Cranes
Cement
Drilling equipment and operations
Electrical Safety
Materials
Pipelines
Production Safety
Production Measurement
Structures (Platforms and other Offshore Facilities)
Quality
Safety and Environmental Management Systems (SEMS)
Subsea Equipment and Operations 
Valves and Wellhead Equipment
Standards that significantly advance safety and environmental stewardship are a priority.  The work of the SDS has significantly advanced the BSEE mission.  Examples of advancing the BSEE mission include an addendum on quality control for supply chains written for API Specification Q1, a new performance-based approach to developing SEMS using API RP 75, a high-pressure high-temperature equipment design document, API 17TR8, and a bolting material guidance document, API 21TR1, to mitigate future bolting failures identified in the BSEE QC FIT report. 
A chart of representative standards and their relevance to advancing the BSEE mission are included below:
| | | |
| --- | --- | --- |
| Standard | Title of Standard | Relevance or Problem Addressed |
| API Spec Q1 | Quality Management System Requirements for Manufacturing Organizations for the Petroleum and Natural Gas Industry | Improves quality of equipment manufacturing |
| API RP 2A-WSD | Recommended Practice for Planning, Designing and Constructing Fixed Offshore Platforms—Working Stress Design | Guides the design and construction of new platforms and for the relocation of existing platforms |
| API Spec 2C | Offshore Pedestal-mounted Cranes | Provides requirements for design, construction, and testing of new offshore pedestal-mounted cranes. |
| API RP 2RD | Recommended Practice for Design of Risers for Floating Production Systems (FPSs) and Tension-Leg Platforms (TLPs) | Addresses design for all new riser systems used on Floating Production Systems. |
| API Spec 6A | Wellhead and Tree Equipment | Provides testing requirements for new valves and wellhead equipment |
| API Spec 6D | Pipeline and Piping Valves | Defines the requirements for the design, manufacturing, assembly, testing, and documentation of ball, check, gate, and plug valves for application in pipeline and piping systems |
| API Spec 11D1 | Packers and Bridge Plugs | Provides requirements for the design, design verification and design validation of primary barrier component, i.e., packers. |
| API RP 14C | Analysis, Design, Installation, and Testing of Safety Systems for Offshore Production Facilities | Presents provisions for designing, installing, and testing both process safety and non-marine emergency support systems (ESSs) on an offshore production facility. |
| API Spec 16A | Specification for Drill-through Equipment | Provides improved validation testing of a primary well control equipment (BOP.) |
| API Spec 16C | Specification for Choke and Kill Systems | Improves the performance of surface and subsea choke and kill equipment  |
| API Spec 16D | Control Systems for Drilling Well Control Equipment and Control Systems for Diverter Equipment | Improves the opening and closing capabilities of BOP ram components. |
| API 17TR8 | High-pressure High-temperature Design Guidelines | Assists with compliance to NTL-G03, 2019; |
| API 21TR1 | Technical Report on Materials Selection for Bolting | Addresses BSEE QC-FIT Report on Connector and Bolts Failures |
| API Std 53 | Blowout Preventer Equipment System for Drilling Wells | Provides field performance requirements for primary well control barrier components, i.e., Blowout Preventer (BOP.) |
| API RP 75 | Safety and Environmental Management System for Offshore Operations and Assets | Performance based approach to SEMS to improve application on OCS |
| ASME B16.5 | Pipe Flanges and Flanged Fittings | Covers pressure–temperature ratings, materials, dimensions, tolerances, marking, testing, and methods of designating openings for pipe flanges flanged fittings |
| ASME B31.8 | Gas Transmission and Distribution Piping Systems | Covers the design, fabrication, installation, inspection, and testing of pipeline facilities used for the transportation of gas. |
Standards are the Basis for the Development of Offshore Renewable Energy
Offshore wind development activity is accelerating in the United States, with over 10 gigawatts (GW) of capacity projected to be installed on the Atlantic Coast before 2030.  Industry standards are the basis upon which the offshore wind projects will be built.  The federal regulations governing the development of offshore wind facilities, 30 Code of Federal Regulations (CFR) § 585, were published in 2009. These regulations outline the development process for an offshore wind project in U.S. waters.  However, because the U.S. offshore wind industry was less mature in 2009, adequate U.S. standards did not exist.  For this reason, no specific standards were incorporated by reference into 30 CFR § 585.  Rather, the regulations prescribe that "best practices" be used, with the expectation that these practices would evolve as the U.S. offshore wind industry gained experience.  Such best practices are the foundation upon which offshore wind standards will be based.  BSEE supports the development of offshore wind standards on the OCS and is engaged in their development.  The SDS supports the development of offshore wind standards by standards development organizations (SDOs) that create standards for the expansion of wind projects in the United States. 
SDS is currently working with AWEA and IEC standards committees in the development of offshore wind standards.  Engagement in these committees has contributed to various advancements in the BSEE mission.  The current global state of the industry allows wind farm developers to utilize flagship standards to bring new projects to the execution phase while some developers are opting to utilize a newly created suite of standards that are written specifically for the OCS.