Over the years, studies have documented a connection among fish and other marine life, fishing, and the oil and gas structures in the marine environment. Shortly after a platform is installed, it becomes habitat to marine life and communities begin to grow. Fishermen, divers, and coastal states have been concerned with the removal of these structures heavily-populated with marine life. BSEE began to work with interested parties and coastal states to address these concerns, creating Rigs-to-Reefs.
Did you know?
As of December 2021, 573 platforms previously installed on the U.S. Outer Continental Shelf have been reefed in the Gulf of Mexico.

A typical eight-leg structure provides a home for 12,000 to14,000 fish, according to a study by the Coastal Marine Institute.

A typical four-leg structure provides two to three acres of habitat for hundreds of marine species.
What is Rigs-to-Reefs?
In 1984, the U.S. Congress signed the National Fishing Enhancement Act (Public Law 98-623, Title II) because of increased interest and participation in fishing at offshore oil and gas platforms and widespread support for effective artificial reef development by coastal states. The Act recognizes the social and economic values in developing artificial reefs, establishes national standards for artificial reef development, provides for creation of a National Artificial Reef Plan, and provides for establishment of a reef-permitting system.
BSEE is responsible for permitting the placement and eventual removal of temporary facilities on the Federal Outer Continental Shelf (OCS). When an OCS Lease expires and/or development and production operations cease, companies are obligated to decommission and remove their facilities (30 CFR §250.1725(a)) and clear the seabed of all obstructions (30 CFR §250.1740). BSEE responded to coastal states' concerns about losing the marine life that had developed on and around these temporary oil and gas structures by adopting a national Rigs-to-Reefs policy.
The current BSEE Rigs-to-Reefs Policy began by first compiling a database of information to help understand and interpret ancillary uses of oil and gas structures and to inform decisions about the role of these structures in fisheries conservation and development.
BSEE initially negotiated an interagency agreement with the National Marine Fisheries Service (NMFS) in order to conduct studies with the participation of other participants such as Texas A&M University and the oil and gas industry.
Five objectives were identified in this cooperative agreement:
Develop a national policy that recognized the artificial reef benefits of oil and gas platforms
Prepare a Rigs-to-Reefs program plan for the Gulf of Mexico
Establish standard procedures to ensure and facilitate timely conversion of obsolete platforms as reefs
Identify research and studies necessary to optimize the use of platforms as reefs
Identify legal restrictions that could prevent using obsolete platforms as reefs
NMFS laid the foundation for Federal endorsement of offshore artificial reefs projects in 1985 when it developed and published the National Artificial Reef Plan under Title II of the National Fishing Enhancement Act of 1984 (33 USC 2101). Since 1985 BSEE has supported and encouraged the reuse of obsolete oil and gas platform jackets as artificial reef material and will grant a departure from removal requirements under 30 CFR §250.1725(a) and applicable lease obligations provided that:
The structure becomes part of a State reef program that complies with the National Artificial Reef Plan;
The State agency acquires a permit from the U.S. Army Corps of Engineers and accepts title and liability for the reefed structure once removal/reefing operations are concluded;
The operator satisfies any U.S. Coast Guard navigational requirements for the structure; and
The reefing proposal complies with BSEE engineering and environmental reviewing standards.
How does Rigs-to-Reefs work?
First, a coastal state has to have an approved, state-specific artificial reef plan. All five Gulf of Mexico coastal states have approved artificial reef plans: Alabama, Florida, Louisiana, Mississippi, and Texas. All five Gulf States have incorporated decommissioned platforms into their artificial reef programs; however, Louisiana and Texas are the primary participants in Rigs-to-Reefs since the majority of platforms are installed offshore the two states.
Each state has an artificial reef coordinator, who assesses the state's interest in accepting an obsolete structure. The state coordinator identifies offshore areas which are suitable for reefing, whether existing or newly proposed reef sites, works with the operator to develop a reefing proposal and secures the required permit from the U.S. Army Corps of Engineers.
When the proposed structure and reef site have been permitted, the state and operator negotiate the terms of an agreement for a donation from the operator to the state. In most cases, half of the cost benefits to the operator are donated to the state's artificial reef program. If decommissioning a structure costs $800,000 to remove, transport and scrap on shore, and reefing the structure will cut costs to $400,000, the operator would donate $200,000 to the state to assist with the management of their artificial reef program.
Concurrently, the operator submits an application for removal to BSEE, which includes the reefing proposal. A reef team reviews the proposal to ensure that all reefing requirements are met. These include the structure being sound, stable, clean, and overall beneficial to the environment, while protecting the Gulf of Mexico's natural resources.
After the state receives the Corps of Engineers' permit, and the proposal meets BSEE requirements, BSEE can grant the operator approval to convert the structure into an artificial reef. The title and liability for the structure is transferred from the operator to the state, once the operator converts the structure to a permanent artificial reef and has complied with all permits and donation agreements.
How are the artificial reefs made?
Three general methods are used for removing and "reefing" a retired structure: 1) tow-and-place, 2) topple-in-place, and 3) partial removal.
Tow-and-place involves severing the structure from the sea floor either using explosives or mechanical cutting techniques and then towing it to the selected reef for deployment.
Topple-in-place also detaches the structure from the seabed. The detached structure is then toppled onto its side.
Partial removal generally does not use explosives. The top portion of the structure is severed at a permitted navigational depth, typically 85 feet deep, and placed on the sea floor next to the base of the remaining structure.
Can all platforms be used for reefing?
No, there are engineering and environmental standards for converting a platform to a permanent artificial reef. Platform size, complexity, structural integrity and location are key considerations in evaluating its reefing potential. Complex, stable, durable and clean platforms are generally candidates for reefing. Platforms toppled due to structural failure are not candidates for reefing.
What are the benefits?
For the environment, repurposing obsolete structures saves fuel emissions that otherwise would be expended transporting and disposing of the structure. It also enriches the marine life in the area.
For oil and gas companies, repurposing obsolete structures saves them the costs of removing, transporting, and disposing of them onshore. BSEE regulations require that, within one year of a lease's expiration, the obsolete structure must be removed.
For states, the artificial reefs attract marine life that enhance fisheries and contribute to the economy by attracting recreational and commercial fishing and diving.
For divers and recreational and commercial fishers, artificial reefs create a rich diversity of marine life.
For marine species, the artificial reefs provide habitat, shelter, food, and other necessary elements for biodiversity and a productive ocean.
The natural bottom of the Gulf of Mexico is a flat plain of clay, mud, and sand, offering very little natural hard bottom and reef habitat. Artificial reefs provide habitat that supports marine life.
Where can I learn more?
State Artificial Reef Program Contacts
Image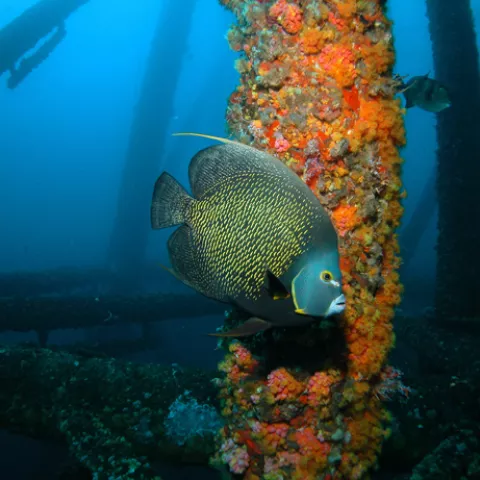 Image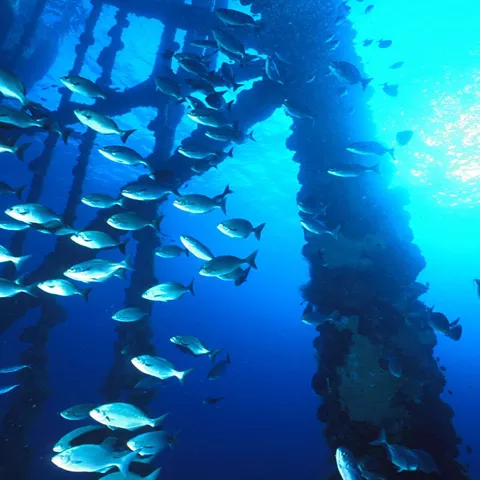 Image