The goal of the OCS Civil Penalties Program is to assure safe and clean operations on the OCS. Through the pursuit, assessment, and collection of civil penalties and referrals for the consideration of criminal penalties, the program is designed to encourage compliance with OCS statutes and regulations.
BSEE pursues a civil penalty whenever a lessee, operator or other person engaged in oil, gas, sulphur or other minerals operations on the OCS that has fallen out of compliance with our governing laws and regulations. According to CFR 250.1402, a violation is a failure to comply with the Outer Continental Shelf Lands Act (OSCLA), its regulations or other approvals under OSCLA. When violations are noted, BSEE issues a Notice of Non-Compliance (INCs).  INCs are the starting point for civil penalty consideration. In general, case files will be prepared after the INC, violation and additional evidence is reviewed and considered. (CFR 250.1400).
More specifically, following CFR 250.1404 BSEE  reviews INCs to consider the following: (a) Violations that are not correct within the period BSEE grants;(b) Violations that BSEE determines may constitute, or constituted, a threat of serious, irreparable, or immediate harm or damage to life (including fish and other aquatic life), property, any mineral deposit, or the marine, coastal, or human environment; or(c) Violations that cause serious, irreparable, or immediate harm or damage to life (including fish and other aquatic life), property, any mineral deposit, or the marine, coastal, or human environment.(d) Violations of the oil spill financial responsibility requirements at 30 CFR part 553. When BSEE determines the pursuit of a civil penalty is appropriate, a case file is developed, forwarded to the next level for consideration of the case file, review of the violation and risks, and application of monetary payment calculations.
BSEE's maximum daily rate for civil penalty calculation for in CFR 250.1403 is required, by the Civil Penalties Inflation Adjustment Act, to be adjusted annually following guidance from the OMB inflation rate. Beginning March 24, 2023 the new rate increased from $48,862 to $52,646 day for each violation. The legislatively mandated increase is contained in a final rule, effective March 14, 2023. This rate will be reviewed on an annual basis 30 CFR 250.1403.
Federal Register (FR) Notices
Notices to Lessees and Operators (NTL)
In addition to Safety Enforcement Division (SED), there are several BSEE offices that play a key role in the agency's Civil Penalty Program.
District Offices:
GOMR: New Orleans, Houma, Lafayette, Lakes Charles, Lake Jackson
Pacific: Office of Field Operatons
Office of Enforcement
Regional Offices: Alaskan, Guff of Mexico, Pacific
Office of the Solicitor
Interior Board of Land Appeals (IBLA)
The bureau's Criminal Penalty review is a screening and referral process. Through the development of inspections, investigations or civil penalties, case of operators suspected of potential criminal violations will be forwarded to the Department of the Interior's Office of Inspector General (OIG). The OIG decides whether to initiate a criminal investigation or to conduct further preliminary inquiries to ascertain the facts necessary to determine whether the case meets the criteria for investigation.
Below is the statutory authority that governs the bureau's Criminal Penalty review and referrals:
Criminal violations are covered under Section 24(c) of the Outer Continental Shelf Lands Act (OCSLA or the Act) (43 U.S.C. 1350(c)). Criminal violations are those that are knowing and willful and may include:
Violation of any provision of the OCSLA, any lease term, license, or permit pursuant to the Act, or any regulation or order issued under the Act designed to protect health, safety, or the environment or to conserve natural resources;
Any false statement, representation, or certification in any application, record, report, or other document filed or required to be maintained under the Act;
Falsifying, tampering with, or rendering inaccurate any monitoring device or method of record required to be maintained under the Act; and
A disclosure of any data or information required to be kept confidential by the Act. Inspector General Act (IGA): The OIG is authorized to investigate violations of OCSLA under Section 2 of the IGA (5 U.S.C. App §§ 2 and 4 (1998)).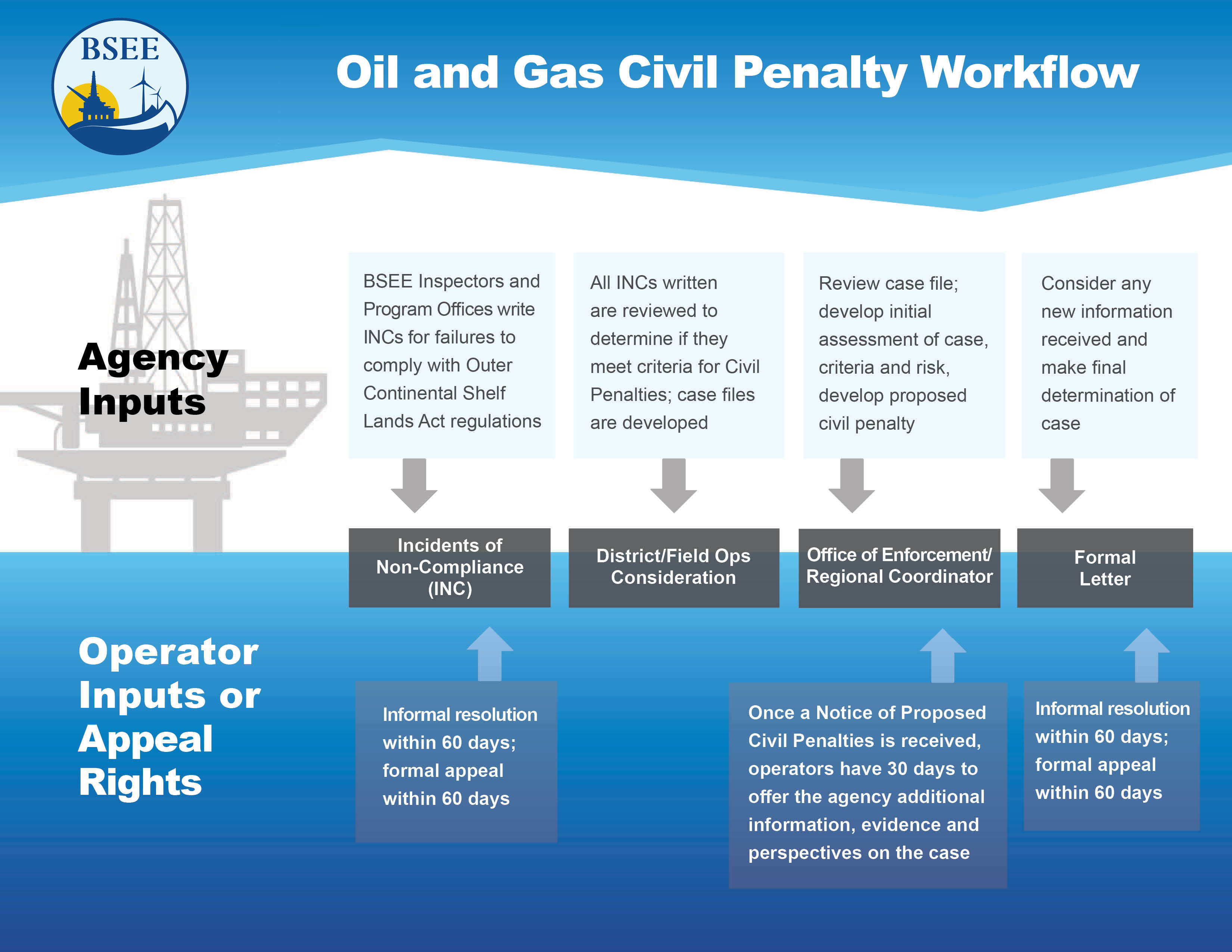 Summary of Civil Penalties Paid